Being cooped up between four walls of a 8th floor office and having only couple of rays of sun shining through a small window can have negative influence on your productivity. Having a garden office, however, can increase your work efficiency by providing you with fresh air and energizing natural environment. It is combining the best of both worlds, working indoors, while still having close contact with the surroundings.
For those of you already working at home, it is a great way to separate personal space from working space. Let us see than, what other advantages 'shedworking' offers and how to get the most out of it?
Why Are Garden Offices So Popular?
The popularity of shedworking comes partly as a result of the recession and the trend of more and more people deciding to work from home. Not only that, it is, as mentioned, affecting productivity and separating in-house workers from the noise and distractions inside. This makes garden offices similar to real business buildings. It gives you the psychological effect of getting up in the morning and going to the office, so that there is private-life-work balance. Additional perk is that you can design the space based on your preferences.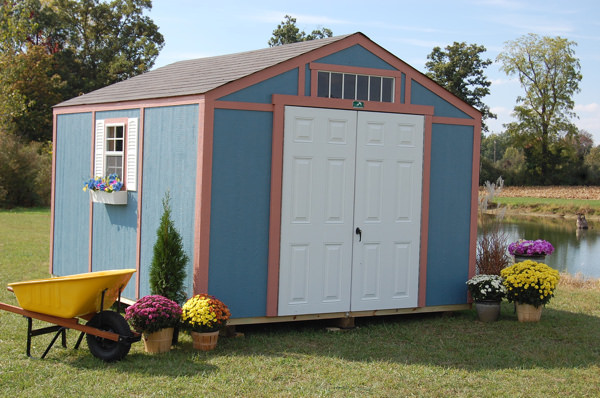 The Question of Money
Unless you already have some shed in your backyard that just needs a little touching up, you can't expect building your own garden office will be extremely cheap option. It is, however, cost-effective solution, because it is cheaper than conservatory or an extension and it can add up to 5% value to your property, should you decide to sell. Your expenses will, of course, depend on the size and design of the very construction. You can face some additional costs concerning electrics running between the studio and the house, insulation, flooring, etc.
How to Do It?
Whether you have a shed which you are planning to convert into an office or you need to start from scratch, you won't be able to do it without work, time and money. If you are converting a shed into office, consider factors such as heating, lighting, insulation and security. Other options are to buy a studio in a DIY centre and build it yourself or hire a professional garden studio company to do it for you. The last option is the most expensive one, and the first doesn't necessarily have to be the cheapest.
Beautiful on the Outside
You don't want to have a garden office in a jungle, right? Lovely space outside the shed will make it look more professional and thus influence your motivation. Just one interesting paver path can significantly improve your office surroundings and you can easily find different solutions that will go well with your backyard, say at a reputed Sydney-based company specialized in quality pavers. Having a small terrace outside where you can take a break from hard day's work will additionally improve the overall feel and adding flowerpots will make the space cozier.
Decorating the Office
As mentioned, decoration based on your likes and dislikes is one of the perks of having a garden office. Still, you have to keep in mind some hacks. No matter the size of the office, you don't want it to look cluttered, so use the space wisely, by adding vertical storage and integrated desks that can fold away when you are not using them. Build shelving under the desk and maximize the size of the room. As for the colors and design, your creativity is the only thing that limits you. Remember though, that for small spaces, neutral light colors are the best because they are creating an illusion of roominess.
There is no doubt, that a well built garden office with thoughtful design and enjoyable surroundings will make at-home workers more productive and happier. Why not give it a try then?