The process of planning for an outdoor event has many components. Providing food and refreshments for event attendees, lining up entertainment for the party, and handling logistics and transportation are all parts of the complex event planning process. Customized inflatable products can add a touch of fun to any outdoor event, regardless of season. These durable inflatable products combine utility and style into colorful packages, helping to bring the event to life.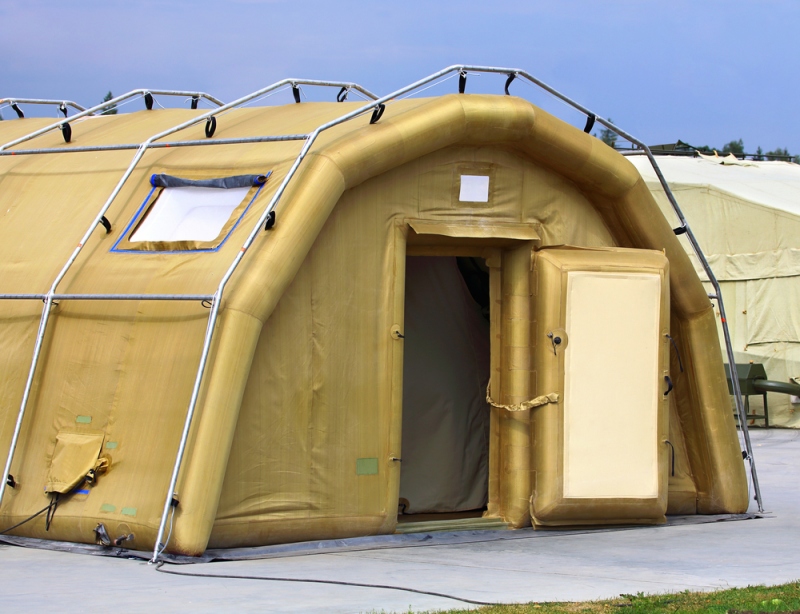 When selecting an inflatable product for outdoor parties, it is important to choose ones that are built tough to last the test of time. Leading inflatables manufacturers use high-quality materials and exacting construction methods to provide the best possible inflatables on the market.
Inflatable Tents
In the world of commercial-grade inflatable products, few products have the versatility of inflatable tents. These inflatables can be used for many purposes, and are a great fit for any outdoor party or festival. Inflatable tents range in size from about 15'x15' to 20'x20' or even larger. These tents are usually found with square footprints, but some models also come in a rectangular configuration. An inflatables manufacturer can often provide custom features, including the choice of colors, printed details, or specialized additions. One of these additions could be roll-away screened panels that cover the sides of the tent. In favorable weather, the screened panels can be rolled away, providing unobstructed views from inside the tent. Where inclement weather or insects are an issue, the screens provide extra protection.
Inflatable tents can be used for meeting areas, food service, or can be pressed into service as a shady resting area. Vendors often set up product and service displays in industrial-grade inflatable tents, and share their information with event attendees. Inflatable tents can even be used for medical treatment zones at outdoor festivals.
Inflatable Jumping Pads
When children are expected to attend outdoor festivals or events, many event organizers turn to inflatable products manufacturers for help. In addition to bounce houses and inflatable slides, inflatable jumping pads are a great way to add thrills and entertainment for young event attendees.
Inflatable jumping pads are relatively simple to set up and operate. In a sense, these are bounce houses without the walls and roofs. Jumping pads come in a wide range of sizes and colors, including massive models that cover 2000 square feet or more. Inflatables manufacturers can add your unique colors and features to make your next event a hit.
Inflatable Movie Screens
Many outdoor events have children in attendance. In warmer months, a great way to add activity at an outdoor party is to screen a movie. Inflatable movie screens make that process as easy as possible. Inflatable movie screens come in a number of sizes, with larger ones having screens 24 feet wide or even wider. These movie screens are easy to set up and to maintain. Like other commercial-grade inflatable products, inflatable movie screens can be custom configured for specific event needs. With these quality custom inflatable products, your next outdoor event is sure to be a smashing success!